My Australian Dream Cream Review – Good Enough For Arthritis?


It's time for my Australian Dream Cream review – because it's a product with so many positive reviews. 
In fact, that's the main reason why I bought it. Plus – it's pretty different from most pain relieving creams:
it's not based on menthol or camphor 

uses a form of histamine
But as I said – it's the positive reviews that convinced me to give it a try.
So is Australian Dream good enough – even for arthritis pain? I've used it myself, so I can speak from experience.
Note: This review is based on my experience with Australian Dream, not on general info about it. I'm not trying to praise/criticize the product or its company – I am simply telling my opinion about it.
So Let's Get To The Review
---
Full Name: Pain Relief Cream from Australian Dream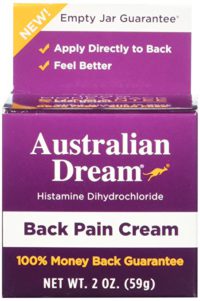 Forms: There are 2 – one for arthritis and one for back pain. 
But I recommend the second one for any kind of pain (I will explain later on why). 
Best Actual Price: $23.65 for the 2 oz version
Where I Bought It From: Ebay, but Amazon has the lowest price right now. 
Designed For: According to the label – it's a temporary relief for:
minor joint and muscle pai

n

simple backache
My Rating: 8 out of 10 
Worth Buying?: For minor joint pain, yes. But if your pain is constant, or if you have arthritis – I wouldn't recommend a cream:
only relieves the outside pain for a few hours

it doesn't treat the cause behind
So if your problem is serious – it may worsen on the long term if you use just this cream. Supplements are the #1 choice for me.
What I Liked About It
---
Very light and soaks in easily

It doesn't leave your skin sticky

Works within 5-10 minutes (in my case)

Different formula than most creams

Doesn't work by numbing the painful area

Its effect is pretty long (around 4 hours in my case)
What I Didn't Like About It
---
The 2 versions (for back pain and for arthritis) have different concentrations

Pretty expensive, compared to other creams

Doesn't treat the cause behind


Australian Dream – A Quick Overview
---
At first sight, Australian Dream looks like a very promising cream. But here's what you should know – you can find this cream in 2 versions:
#1 – For Back Pain
#2 – For Arthritis

Normally – you would imagine that the arthritis form is slightly better, right? The pain from arthritis is usually more intense than back pain.
Well, here's the thing:
they have the exact list of ingredients

it's just the concentration of the main ingredient that is different
The back pain form contains 0.050% histamine – while the arthritis one has 0.025%. 
So it's exactly the opposite as you would expect.
Therefore, no matter what kind of pain you have – choose the back pain form:
it's more concentrated

so there's a higher chance that it works

plus, it's slightly cheaper 
Now that you know this essential tip – it's tip to move on to the real review, starting with the ingredients.
The Ingredients – Simple But Powerful
---
Even though it doesn't contain the usual stuff – Australian Dream has a great formula, in my opinion.
But as I said:
the back pain and the arthritis form contain the same ingredients

but the concentration is higher in the back pain form (0.050% vs 025%)


For this reason – I used the back pain form and that's the one I will review.
Now – let's take a closer look at its ingredients:
1. Histamine Dihydrochloride (0.05%) – though I couldn't find a lot about this ingredient, I do know it's very powerful.
But here are the main things about it:
it's naturally produced in out body

it's FDA approved

also used for leukemia – but injected directly, not as a cream
So basically – it's a very powerful ingredient alone. As it's applied on the skin, its effect is not that strong.
But compared to other creams, it's a lot stronger. That's why I really trust this ingredient.
2. Inactive Ingredients – they don't have a major importance, so I won't insist too much:
mostly herbal extracts

substances that improve the texture and consistency
3 Conclusions On The Ingredients
---
#1. No Need For Extra Stuff – Australian Dream is probably the first cream whose ingredients I really like:
it only contains one substance

but it's strong enough to relieve the pain for real

it doesn't need any menthol, camphor or essential oils 
As it is – there's no need of any extra ingredient, in my opinion. The histamine can do its job well enough alone.
---
#2. Clear Doses – this is something I really appreciate about Australian Dream's company:
they mention the clear percent of histamine

they label the other stuff as "inactive ingredients"
Now – most creams contain over 10 different substances (as active ingredients). Penetrex is the best example.
Out of those – most are probably inactive. However, they don't mention anything about this.
Australian dream does contain a lot of extra ingredient – especially herbal extracts. But they're clearly labeled as "inactive" – so the brand is really honest about what they use.
---
#3. Doesn't Treat The Cause – even though I really like this cream, I have to be honest:
it only hides the pain for a couple of hours

it doesn't actually treat the cause behind

so the pain comes back as strong as before
However – that's something normal for every cream. Even though Australian Dream is better than many others, it still has this big problem. 
So that's why I wouldn't recommend it for arthritis or chronic pain.
Why I Bought Australian Dream
---
Before I tell you how Australian Dream worked for me – let me tell you a few things about my pain:
it was worse in my hands and elbows

on an average, it was around a 6 on the pain scale

in the most painful days, it was even around a 7

I had rheumatoid arthritis, so that causing my pain
Now – I had best results with turmeric supplements. But I was always looking for new products – especially if they had many positive reviews.
So that's why I gave Australian Dream a try. 
It could surely not cure my arthritis, since it was a cream. But I wanted to see if it can really decrease the pain as well as reviews say.
My Experience With This Cream
---
To be honest – it was one of the best creams I ever tried. Here's how I would sum up my experience with it:
It started working about 5-10 minutes

My pain got to about a 3.5-4 (from a 6)

What impressed me is that it didn't numb the painful area

It was simply the pain that was better

The effect lasted for about 4 hours (which is a lot for a cream)


Now – I bought the 4 oz bottle, which wasn't very large. But I didn't have to apply a very thick layer – as I would with other creams.
According to the label, you only need to use a thin layer.
However, the second time I tried to apply a thicker one – and my pain felt better. 
So overall – I was quite satisfied with Australian Dream. This cream works – it's surely not a scam.
But even so, I wouldn't recommend it for arthritis or chronic pain:
it only relieves the pain temporarily (about 4 hours)

you have to reapply it several times per day

if you stop using it, the pain comes back as strong as before

the cause of your pain doesn't get any better

on the long term, it can actually worsen (since it's not treated on the inside)
So for a minor or temporary pain – Australian Dream is great.
But for arthritis or a pain that is constant – you need an internal treatment, not just a cream.

PRO #1 – Great Texture
---
When it comes to how this cream looks – there's nothing to complain about:
It's not greasy and doesn't stick to your skin

Rinses easily

It's completely smell-free

Doesn't irritate the skin at all

There's also no itchy sensation

It soaks in within 2-3 minutes (depending on how much you applied)
So it's like you're not applying anything on your skin – after a few minutes, you can't even feel there was a cream.
That's one of the strong points of Australian Dream – since most creams I used were pretty bad at this chapter.
So if you're looking for a light cream, this is one of the best.
PRO #2 – Doesn't Numb The Area
---
Here's the thing:
most pain relieving creams contain anesthetic ingredients

in this way – they numb the area where they're applied

that's how they actually reduce the pain
To be honest – I never recommend this kind of products.
They're pretty uncomfortable because once you apply them in a spot – every sensation goes away. So if you get a cut, you will probably not feel much.
But the great news is that Australian Dream doesn't work in that way:
only relieves the real pain

it doesn't numb the area around
So this is another reason why it's not a basic product. It's surely above many arthritis creams.
PRO #3 – Pretty Long Effect
---
Once again, I have to compare Australian Dream with other creams. 
And when it comes to how it works – it's also superior to some:
it starts working immediately (

unlike others

)

in my case, the effect lasted around 4 hours

this means that I had to apply it every 5-6 times a day
Now – that was in my case, because I have a pretty bad pain.
But if your joints aren't hurting a lot, you might even have to apply it 1-2 times per day. That is definitely not much. 
I've used creams that had to be reapplied every 2 hours – which was really uncomfortable. So Australian Dream is one step ahead, from this point of view.
CON #1 – A Bit Expensive
---
That's my personal opinion – considering that histamine isn't a very expensive substance.
So let's take a look at the 2 version of Australian Dream.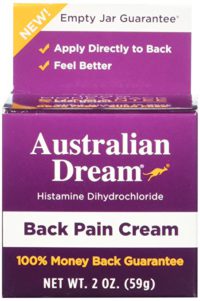 1. The Back Pain Form has the following prices:
$23.65 for the 2 oz size

$28.41 for the 4 oz one

and $44.75 for the 9 oz version
2. On the other hand, the Arthritis Form has only 2 versions:
the 4 oz costs $28.41 (just like the Back Pain Form)

the 9 oz size is $53.50 – so a bit pricier
Now – I won't take any of them separately.
But their general price is a bit too high, if you ask me. I mean – $24 for a little 2 oz bottle is a lot, no matter how good the cream was.
At this quantity – I doubt it's going to last more than 3 weeks (if you really use it). 
As I said, it's definitely a good cream – compared to others. But in terms of price, it's a lot more expensive than the same creams. 
CON #2 – Not A Long Term Treatment
---
As I said – I wouldn't recommend Australian Dream if you have a constant pain.
The reason is pretty simple – I wouldn't recommend a cream. At least not as a lone treatment:
It only relieves the pain for a few hours

The pain comes back afterwards

It doesn't decrease pain intensity with time

On the contrary – the pain will probably worsen on the long term

That's because the cause behind isn't treated
I think you understand what I mean. When your pain is chronic – it's usually a sign that there's a problem behind.
So if you only treat the pain (temporarily) – the cause is still there. And it gets worse.
For this reason, creams in general aren't my recommendation – if you have arthritis or a constant joint pain:
you can use them together with a supplement or a drug

but you shouldn't use them all alone
Otherwise, your problem has 80% chances to worsen on the long term.
CON #3 – Different Concentrations
---
Though I really praised this cream, there's something particular I didn't like about it:
It has 2 forms – one for arthritis and one for back pain

Even though they have the same ingredients, the doses are different

The back pain form contains more histamine

While the arthritis one has half of that dose


Now – histamine dihydrochloride is the only ingredient from both. They do contain some other stuff, but those are inactive substances.
So why would they add more histamine in the back pain form – when back pain isn't usually as bad as arthritis pain?
Do you get my point? And there's one more thing:
the arthritis form is costs a few dollars more

that even though it's less concentrated than the other one
So it doesn't really make sense.
In my opinion, they should either add the same dose in both – or they should make the arthritis form more concentrated, since it's a more severe pain.
So if you decide to buy Australian Dream – go for the back pain form even if you have arthritis.


My Verdict – Is Australian Dream Worth Buying?
---
Short answer: For a minor pain, definitely. It's one of the best creams I tried throughout the years.
However, I wouldn't recommend it for arthritis or chronic pain:
only relieves the pain temporarily

doesn't treat the cause 

your problem may worsen overtime
If you have a minor joint or muscular pain and you need a cream – Australian Dream is a great choice.
However, you will have to pay more than for other creams. If you're fine with this, go for this cream.
But if you have a real problem, I advise you to choose a supplement instead:
it doesn't work just on the outside

relieves the pain by treating the cause
So on the long term – it's a much wiser choice, in my opinion. But sure, it's up to you what you decide.