My Joint Soother Review – Can It Really Help?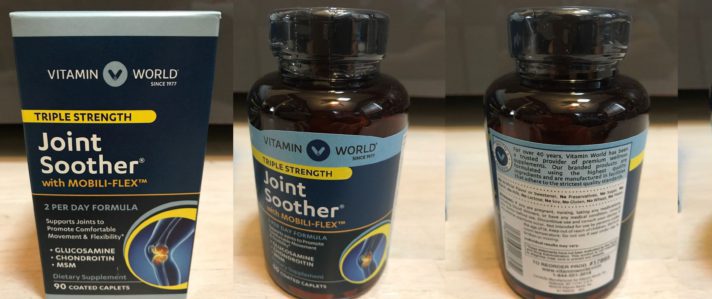 It's time for my Joint Soother review – a joint product that doesn't look amazing to me:
uses the weaker form of glucosamine

doses are not clearly mentioned
Besides, I've tried similar formulas in the past – without much success.
So is Joint Soother any good? Or it's another supplement that promises a lot and does nothing? I tried it out myself so I can speak from experience.
Note: This review is based on my experience with Joint Soother, so it doesn't contain just general info. I'm not trying to praise/criticize this product or its company, I am simply telling my opinion about it.
So Let's Get To The Review
---
Full Name: Joint Soother Triple Strength from Vitamin World.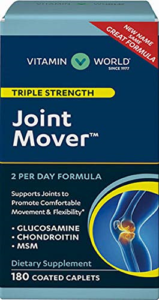 Sizes: There's are 4 main versions:
60 or 90 caplets – the medium sizes

120 or 180 caplets – larger sizes
Best Actual Price: Around $22 (depending on the size and where you get it from).
Where I Bought It From: Ebay, because you can find all sizes there. 
It's also available on Amazon, but I could only find the 180 caplets version.
Designed For: Judging after the ingredients – osteoarthritis or cartilage problems:
contains ingredients that rebuild cartilages

small doses of anti-inflammatory

couldn't help the pain caused by inflammation (like in rheumatoid or psoriatic arthritis) 
My Rating: 6 out of 10 – I only rated it so high because of the price.
Worth Buying?: Probably not, even though it's pretty cheap:
has the weaker form of glucosamine

it doesn't mention the doses for all ingredients

it didn't help me tremendously
So I personally would not recommend it – at least not for a regular form of OA. If you have minor issues, it should do its job.
What I Liked About It
---
Pretty good choice of ingredients overall

High dose of glucosamine

You can find it in several sizes (I found 4, but there could be some others)

Not very expensive

You only have to take 2 pills per day
What I Didn't Like About It
---
Weak form of glucosamine (the HCl instead of the sulfate)

Doesn't mention some doses – I will explain below

Didn't improve my joints too much

Pills are pretty thick and hard to swallow


Joint Soother – A Quick Overview
---
Well – Joint Soother looks like a classic supplement:
contains well-established ingredients

is produced by a well reputed company

available in several retailers

you can buy it both online and offline
So what makes it better then? Why would you buy this product – when there are over 100 similar ones?
It's probably the price. Compared to others, Joint Soother is significantly cheaper. 
However – that usually means it has a lower quality. So let's dig deeper into it – starting with the ingredients.
The Ingredients – Not What I Expected
---
At first sight – Joint Soother's ingredients looks pretty good:
Classic substances

Pretty high doses


But if you take a closer look – they're not that impressive anymore. So let's take them by turn:
1. Glucosamine Hydrochloride (1500 mg) – normally, glucosamine is the best ingredient for osteoarthritis:
it rebuilds damaged cartilages

also protects against further damage
However – I don't like the form Joint Soother uses:
the hydrochloride is pretty weaker overall

it doesn't have positive reviews in studies

it's only cheaper as a substance
1500 may be a great dose – but as it's the HCl form, I doubt it's going to be very effective. So that's the #1 problem.
2. Mobili-Flex Proprietary Blend (1.194 mg) – this is a brand mix that is made of:
MSM,

Chondroitin, Collagen, Boswellia, Citrus Complex

overall, it contains really good substances inside

the final dose is pretty high
However – what bothers me is that there's no dose for each particular ingredient. 
This is a big problem – considering that most of those 5 ingredients are really essential (MSM, Chondroitin, Collagen). 
4 Conclusions On The Ingredients
---
#1. Weak Form Of Glucosamine – as I said, this is the #1 problem of Joint Soother, in my opinion. 
Basically – there are 2 forms of glucosamine: the sulfate and the HCl:
there are lots of studies on the sulfate

it has mostly positive results, while the result for the HCl aren't that promising

glucosamine HCl is cheaper as a lone substances

most people have no idea about the difference
So that's why many brands use the HCl form:
It's cheaper for them.

Most people can't tell the difference on paper.
But when it comes to results – the sulfate works much better overall. I always had much better results with it – compare to the HCl form.
#2. Good Dose – however, the dose of glucosamine is pretty good:
1500 mg is a great dose

the HCl form is usually more pure than the sulfate (but it's not better)
So speaking exclusively about the dose of glucosamine – Joint Soother looks pretty good.
#3. No Doses For The Blend – that's the second problem I found about it:
Only mentions the overall concentration of the proprietary mix

There's no exact dose for the Chondroitin,

Boswellia

or the rest
In most cases – companies do this in order to hide some small doses. 
Considering there's about 1200 mg overall:
that would mean about 250 mg/substance

this is a pretty low dose
#4. Better For Cartilage Problems – judging after what it contains, Joint Soother should work better for OA:
glucosamine,

chondroitin, collagen, MSM help cartilages

only Boswellia is an anti-inflammatory

however, it probably has a low dose
So I wouldn't recommend this product for joint pain caused by inflammation.
My Experience With Joint Soother
---
#1. Why I Tried It – the main reason was for my OA:
it was affecting both of my knees

it was a consequence of cartilage tear – due to my rheumatoid arthritis

the pain wasn't that bad (a 3-4)

the #1 problem was that I lost my knee flexibility

so walking and standing was more difficult than it used to be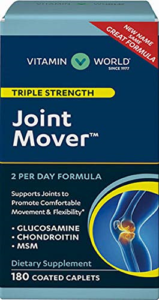 #2. How It Worked – to be honest, Joint Soother didn't work amazingly for me.
I could see a difference after using it – but it wasn't any better than most glucosamine products. Here's what I mean:
My pain did get better after about 2 weeks

It went from a 4 to about a 2 – so it didn't disappear completely

My knees felt a bit better after about 2 months

However, the improvement was pretty small
Actually – I wasn't getting so tired after walking around the home. That was mostly the improvement.
But I still couldn't bend down or bend my knees

Also – I couldn't stand for more than 20-30 minutes
#3. Overall – I can't tell Joint Soother worked too well. Most supplements I tried also helped with these things.
In my opinion, it's because of the weak form of glucosamine it uses. But obviously – I can't tell for sure.
So I wouldn't really recommend Joint Soother for joint problems or osteoarthritis. There are many products that are way better, in my view.
Now let's take a quick look at the best and the worst things about Joint Soother.


#1 Advantage – Quality Ingredients
---
To be honest, Joint Soother contains some really good stuff inside. At least at first sight.


So here's the thing:
most ingredients are classic substances

overall – they have many studies on joint pain with positive results

I can also confirm that they're very effective (based on personal experience)
So there's only that weak form of glucosamine that I really don't like.
All the other ingredients look very promising:
Chondroitin and MSM exist in most joint supplements.

Collagen is also a quality substance.

Boswellia is often times associated with turmeric – for inflammation.

Citrus Complex is the only one that's not so popular – but it also works for inflammation.
Compared to other joint supplements, Joint Soother really contains good substances inside. So that's a real advantage.
#2 Advantage – Great Price
---
To be honest, Joint Soother is definitely not expensive. Compared to similar products – it's actually quite cheap.
Let's take the 120 pills version:
it's enough for 2 months

the price is around $22 per bottle

this means you only pay around $11 per month – which is super cheap
Now – there is indeed a problem. I couldn't find all the versions on Amazon (and they usually have the best price here).
So I couldn't tell the exact price for each size – because they are different on most retailers.
However – one thing is clear:
it's really cheap for what it has inside

doesn't cost as much as similar supplements

it only depends where you buy it from
So if you decide on Joint Soother (though I personally don't recommend it) – make sure you check out several shops before making the actual purchase.
#1 Problem – Concentrations
---
Now – the major problem of Joint Soother is probably the glucosamine HCl.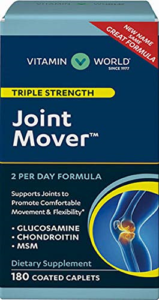 But as I already explained why it's a problem for me – I won't mention it again. 
However, another big downside of Joint Soother are its doses (or their lack):
Only the concentration of glucosamine HCl is mentioned

For the other ingredient – it's only mentioned the final dose
So here's what the label should look like – in my opinion:
the ingredients are fine

the Proprietary Blend's dose is also fine

but each of the 5 ingredients inside should be mentioned separately

they should also mention the dose for each
That would mean: A mg of chondroitin, B mg of MSM, C mg of collagen – and so on. 
In this way, you could know exactly what you're taking. But as it is now – the doses are probably small for some of those ingredients.
So in my opinion – that's why they're not showing them clearly.
I've seen many companies doing this when their doses are too low – so that's why I believe this.
#2 Problem -Not Too Helpful
---
Honestly – Joint Soother didn't convince me it's a worth buying supplement:
it didn't relieve my knee pain completely

didn't improve my flexibility too much

overall – it wasn't better than most products
Now – I'm mostly speaking from experience, but I can't consider it a really good product. 

So here's the thing:
It couldn't help someone with inflammation problems (low doses of anti-inflammatory)

It can decrease OA pain

But I doubt it could improve flexibility or rebuild cartilages
As I said – that's my personal opinion, judging after how it worked for me. 
So I wasn't too satisfied overall – it's not such a helpful supplement as you might think.
#3 Problem – Large Pills
---
That's another thing I didn't really like about Joint Soother:
pills are pretty thick and big

swallowing them isn't too easy
Now – I know that glucosamine pills tend to be thicker. 
But I've seen many supplements with decent pills in terms of size.
Plus – Joint Soother mentions that its pills are caplets, not capsules or tablets. So what does that mean?
normally, caplets are smaller in size

they are also lighter – not as thick as capsules
So I personally wish they were a bit smaller – since you have to take 2 per day. 
Obviously, it's not the biggest problem ever – but in terms of comfort, it's not too good.


My Verdict – Is Joint Soother Worth Buying?
---
Short answer: Probably not. I would only recommend it in this case:
you have an easy form of osteoarthritis

you want to test out a cheap product, in case it helps
Otherwise – it's surely not the kind of supplement I would recommend:
Contains the weaker form of glucosamine (HCl)

Doesn't mention most of the doses

Didn't help my joints too much
Now, I admit it's a really cheap supplement – so you wouldn't be wasting a lot of money anyway. 
But I think it's not the right choice for osteoarthritis – considering the reasons I mentioned above.
So I personally would choose something else, even if it's a few dollars more. But obviously, it's all up to you.