My EasyFlex Review – Scam Or Legit Supplement?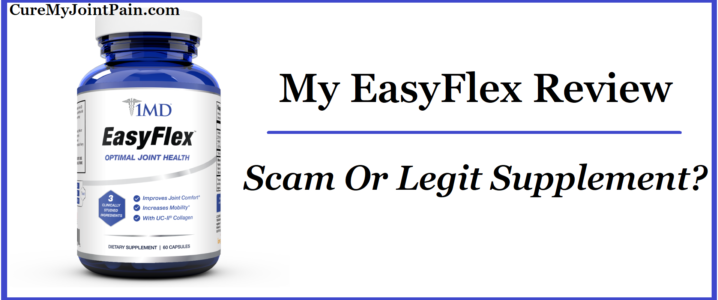 It's time for my EasyFlex review – because it's a joint supplement that seems too good to be true.
Here's why I have this opinion:
extremely expensive

only 3 ingredients

no independent reviews
Basically – EasyFlex doesn't contain anything amazing. However, it's highly praised on the official website.
That's what made me doubt it from the start. So is EasyFlex a scam – or it's just a bad first impression?
I tried to dig deep into this product and here's what I found out.
Note: This review is based on my opinion – not on general info about EasyFlex. I'm not trying to praise/criticize this product or its company, I am simply telling my opinion about it.
So Let's Get To The Review
---
Full Name: EasyFlex Joint Relief Formula from 1MD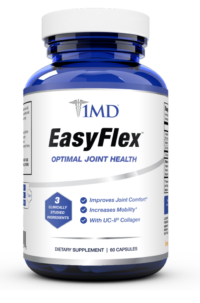 Sizes: Only one – 60 capsules bottle (monthly supply)
Best Actual Price: $69.95 per bottle
Best Place To Buy It: The official website – you can't find it anywhere else
Designed For: Joint health and mobility – according to the label.
Now – it contains mostly anti-inflammatory substances:
I believe it works better for inflammatory pain and issues

probably not that effective for OA and cartilage problems
My Rating: 5 out of 10 – It's the price that made me rate it so low.
Worth Buying?: No – it costs way too much:
there are many products that work even better

they cost less than half
EasyFlex is surely not a scam, it's a pretty good product. But at $70 per bottle, it's way too overpriced.
As I said – turmeric supplements work better overall and cost under $30. So that's what I would choose instead.
What I Liked About It
---
Pretty good doses in most ingredients

Only 2 pills per day

Easy to swallow pills

Really works for joint inflammation and pain

There's also a money back guarantee (but I can't tell how true it is)
What I Didn't Like About It
---
Only 3 ingredients

Many negative reviews and complaints on independent websites

Recommended by a cardiologist on the official website (nothing to do with joint issues)

Way too expensive ($70 per bottle)


EasyFlex – A Quick Overview
---
I would sum up this supplement in 2 phrases:
Uses trademark ingredients

It's extremely pricey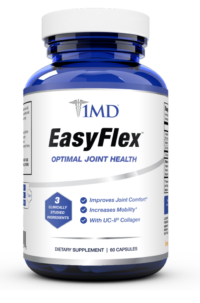 Now – EasyFlex contains 3 ingredients. All 3 are registered trademarks of 2 different companies.
This means they have a better absorption and a higher bioavailability.
In other words:
They need lower doses to work

But that's just on paper
Obviously – trademark substances are a lot more expensive than their regular forms.
And that's why EasyFlex is more expensive than similar products.
However – the 3 trademarks don't explain why it's $70 per bottle, which is a really huge price.
In my opinion – it's way too much for what it does. But now that you know what to expect – let's analyze EasyFlex closer.
1. Ingredients

(8.50 out of 10)
---
In my opinion, EasyFlex's ingredients are not worth $70:
only 3 substances overall
Now – it's true that all 3 are registered trademarks of other companies. But to me – that doesn't make them more effective.
So let's take a quick look at each:
1. Longvida Curcumin Extract (400 mg) – turmeric/curcumin is my favorite herb for joint pain:
best natural anti-inflammatory

really decreases the swelling
Now – Longvida is actually better than regular curcumin. It has a higher absorption – so it needs a lower dose.
However, I'm not sure if 400 mg are enough – since a regular dose of turmeric/curcumin is over 1000 mg per day.
2. WokVel Boswellia Serrata (666 mg) – it's the only ingredient I really like:
Boswellia itself is a great anti-inflammatory
Compared to other supplements – 666 mg is a really high dose.
3. UC-II Standardized Cartilage (40 mg) – here's what it does:
helps with inflammation

slows down inflammatory molecules
Also, 40 mg seems to be the regular dose – according to studies. 
Now – I personally didn't have amazing results from this ingredient, so I consider it pretty weak. 
But it's surely not a bad substance for joint pain.
Conclusion: I doubt 3 ingredients are worth $70 – even if they're trademarks.
For these money – you can buy each separately as a 3 months supply. 
#2. How Pills Look Like 

(9 out of 10)
---
Now – I did not take EasyFlex myself, so I can't show you how exactly they are. 
But here's what I found out about them:
They have an average size.

You can swallow them easily – they're not too large.

You only have to take 2 per day.

I think it's better to take them after eating.
There isn't a lot I can tell here – you can find the recommended dose and advice on the label.
But as I said – I recommend taking the pills after eating. 
Both Turmeric and Boswellia can cause side effects more often if you take them on an empty stomach. So food should protect you. 
2 pills per day is pretty comfortable. But I would have given them a 10 out of 10 if there was only one.
#3. How It Works

(7 out of 10)
---
As I said – I haven't tried out these pills personally. It's one of the few supplements I reviewed without trying.
But considering I tried many similar products – I think I can get an idea just by seeing the ingredients.
Plus, I checked out several customer opinions on independent websites.
So here's what I found out about EasyFlex:
Helps joint inflammation and pain.

Results depend a lot from person to person.

Doesn't help serious problems (like osteoarthritis) that much.

Many customers were complaining about it – mostly because of the price.

All positive reviews are only on their website.

Those reviews also seem kind of questionable (more on that later).
So EasyFlex is surely not a miraculous product. Nor it's as good as the official website claims.
I can tell that after the ingredients, but that matters less. 
The best proof are the negative reviews I found – and the low number of positive opinions. So that should speak for itself.

#4. Price

(1 out of 10)
---
This is by far the biggest problem of EasyFlex:
A bottle costs almost $70.

That is enough for just 1 month.

You also have to pay around $5 for shipping.

You can only buy it from the official website.

Its ingredients aren't extremely special.
So honestly – EasyFlex is extremely expensive for what it offers.
Even if it was the best joint supplement ever – I still wouldn't recommend it. There must be something that really works and doesn't cost a small fortune. 
Now – I have a guess on why they ask such a high price per bottle:
all 3 ingredients are trademarks of other brands

so they cost a lot more (compared to their non-trademark version)
However – trademark ingredients never worked better for me.
So I would definitely prefer a product with the regular form of ingredients – for an average price. In my case, the results were always similar.
Therefore – I would surely not recommend EasyFlex.
For $70 per bottle, it's definitely extremely overpriced.
#5. Additional Problems
---
There's a pretty weird thing I noticed about EasyFlex:
It has a doctor's recommendation on the official website.

However, that doctor is a cardiologist.

He mentions all the benefits of EasyFlex for joints.
To be honest – I didn't really understand that. 
Cardiology has absolutely nothing to do with joints and cartilages.
So why is a cardiologist recommending this supplement – and mentioning how good it is for the joints?
I only think about this scenario:
they try to impress the customers

and most people have no idea about cardiology or rheumatology

so they can't really spot this detail
Now – I can't really tell if that's the explanation.
But I personally wouldn't listen to a cardiologist's advice for joint problems. That's why I find it pretty weird.
#6. Final Conclusions
---
In my opinion – these are the most important things about EasyFlex.
1. No Amazing Ingredients – I'm not a big fan of its composition:
only 3 substances

all of them are trademarks of other companies
In my opinion – they could use more ingredients in their regular form (not trademarks).
In this way – the final price would be much lower and the effect really close. 
2. Doesn't Make Miracles – judging after all the reviews I read, EasyFlex isn't that effective:
only helped certain people

there were more negative reviews about it

the only positive reviews were on its official website
Now – EasyFlex should help joint inflammation at least a bit. It doesn't have bad ingredients inside.
But it doesn't seem as good as the official website claims – that's all.
3. Super Expensive – honestly, EasyFlex costs way too much:
the lowest price is $69.95 per bottle

that's only enough for a month
And honestly now – its ingredients aren't worth that much. Nor is it – overall. 
You can find a much better joint supplement for less than $30. So why pay $70 on EasyFlex?
Just because it has trademark ingredients? If you ask me – they're not worth all that.
My Verdict – Is EasyFlex Worth Buying?
---
Short answer: Definitely not – it's way too expensive. 
It's surely not a bad product or a scam – it contains trademark ingredients in some decent doses. So it has to work – even a bit.
But at $70 per bottle – it's surely not worth it. Plus, it has some things I didn't like:
many negative reviews and complaints

recommended by a cardiologist (not by a rheumatologist)
So to be honest, I wouldn't recommend EasyFlex mostly because of its high price. 
It does have a money back guarantee. But I read many reviews of people complaining about that.
So I personally wouldn't pay $70 on EasyFlex when I can get something much cheaper for less than half. 
Obviously, you can choose whatever you want – but that's what I would buy instead.