My ArthroZyme Plus Review – Is It Any Good?


It's time for my ArthroZyme Plus review – because it doesn't look like a common joint supplement:
it has a different formula

none of the classic ingredients
Now – it claims to have a better formula, which I personally doubt (judging after the ingredients). 
However, you can't really tell until you try it. So does ArthroZyme Plus relieve joint pain – or it's too weak?
I tried to dig deep into this supplement to find out the truth behind it.
Note: This review is based on my opinion about ArthroZyme, not on general info. I'm not trying to praise/ criticize the product or its company, I am simply telling my opinion about it.
So Let's Get To The Review
---
Full Name: ArthroZyme Plus from TrueHealth

Quantity: 60 capsules (1 month supply)
Best Actual Price: $31.95
Where You Can It Buy From: Amazon. You can find a lower price on Ebay, but it's a bit more risky. 
The price on the official website is $3 more than on Amazon (which is pretty weird).
Designed For: Joint and muscle pain – according to the label.
Now – its ingredients work mostly for:
inflammatory pain

rheumatoid or psoriatic arthritis
It contains mostly anti-inflammatory substances, so it wouldn't help osteoarthritis or cartilage problems too much.
My Rating: 6 out of 10 – Surely not a scam, but not amazing either.
Worth Buying?: It depends. 
It's good enough for minor inflammation (tendinitis, sprains, injuries) – but there are many cheaper products that can do.
On the other hand – I wouldn't recommend it for arthritis or chronic inflammation:
not strong enough, in my opinion

also a bit expensive
What I Liked About It
---
Only 2 pills per day

You can find many authentic reviews

Available on several retailers

Contains one ingredient I haven't seen before (serratiopeptidase – more on this later on)

Pretty good doses for most ingredients
What I Didn't Like About It
---
Some ingredients have no benefits for joint pain (Vitamin D, Zinc)

The formula is weaker than most supplements, in my opinion

No classic ingredients like turmeric or glucosamine

Many negative reviews

Pretty expensive for what it contains

It's a lot more expensive on the official website than on Amazon


ArthroZyme – A Quick Overview
---
What caught my eye about this product is the following:
it claims to have "a different formula" than most products

and it really does

but in my opinion – not in a positive way
The good part is that ArthroZyme is produced by a legit company – with several supplements in their resume.
So there are small chances that this product is a scam.
In my opinion, it's simply a bit overrated – for what it contains, it shouldn't cost above $30. 
But now that you know the general things about it, let's get into more details about ArthroZyme.
The Ingredients – Not Too Impressive
---
To be honest – I was pretty disappointed by ArthroZyme's ingredients:
no classic substance for joint pain

some ingredients have no real benefits for pain
So let's take a closer look at each ingredient: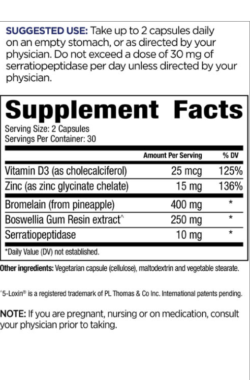 1. Vitamin D (25 mcg) – even though it has a really good dose in ArthroZyme, this vitamin doesn't help joint pain too much:
So according to actual studies – vitamin D has very little to do with joint problems (unless you have a major deficiency). 
2. Zinc (15 mg) – this mineral is useful in RA or other inflammatory condition.
But the thing is – it helps mostly when you have a zinc deficiency. If your level is normal, you won't get any benefits from it.
3. Bromelain (400 mg) – this is a natural enzyme from pineapple:
decreases joint inflammation

it's an antioxidant

it works better combined with other substances
I couldn't find many studies on bromelain and joint pain – but in my opinion, it's a very useful substance for inflammation.
5. Boswellia Gum Resin Extract (250 mg) – this is another herb that works great for inflammation:
ArthroZyme contains a special form of Boswellia

This form claims to have a better absorption

In this case, 200 mg are probably enough
6. Serratiopeptidase (10 mg) – it's the first time I see this ingredient, and it seems to be really special: 
it's an enzyme produced by silkworms

it dissolves fibrin and bradykinin (which can cause joint irritation)

10 mg is a pretty high dose
So basically – this ingredient is the only new thing from ArthroZyme. You can find the other ingredients in many products, but the serratiopeptidase isn't as common.
3 Conclusions On The Ingredients
---
#1. No Major Ingredient – ArthroZyme doesn't have any ingredient in the focus:
no turmeric,

glucosamine

or collagen

bromelain has the highest dose – but it's not mentioned more than the rest
So you can't really tell what this supplement is based on – it contains more ingredients, but none seems to be more important.
#2. Good Doses – I know that at first sight, ArthroZyme seems to have some low doses.
But here's the real thing:
Vitamin D and Zinc are more than the daily value

This Boswellia extract (5-Loxin) is better than regular one – so it needs a lower dose

400 mg of bromelain is pretty high

The maximum dose of serratiopeptidase is around 30 mg per day
So if you analyze these facts – ArthroZyme's doses are pretty good actually (for these ingredients).
#3. Not A Great Formula Overall – despite the high doses, the general formula didn't impress me at all:
not very strong substances (except Boswellia)

no major ingredient
I tried lots of supplements with different ingredients. But I wouldn't really trust ArthroZyme's formula – at least not for amazing results. 
It can work decently – but I doubt it's going to make miracles.
Overall: Not the best ingredients ever. The Boswellia extract can't work amazingly on its own.
And some of the other ingredients can't do a lot either (Vitamin D, Zinc, Serratiopeptidase). So it is "a different formula" – but not in the good way.

My Experience With ArthroZyme
---
ArthroZyme is one of the supplements I reviewed without trying in reality.

But as I tried many other products with similar ingredients – I think I can get an idea without trying it. 
Besides – I checked out a lot of real customer reviews about ArthroZyme. So here's what I could tell you about it:
It's a good product for bone health (high dose of vitamin D).

It can help minor swelling (bursitis, tendinitis, gum inflammation).

For joint inflammation, it's not very strong.

I doubt it can relieve arthritis pain completely.

It can also help for pain caused by a zinc deficiency.
So overall – I wouldn't recommend it for arthritis or chronic joint pain. It's just not strong enough for a serious condition like this, in my opinion.
Now – if you only have a temporary problem (an injury), ArthroZyme should help.
However, I think it's a bit too pricey to be the #1 option.
It's not a very expensive product – but you can get something better for less money. So I wouldn't start with ArthroZyme for a minor problem.
However, besides its bad points – it also has some good ones. So let me show you briefly its top and bottom lines.
PRO #1 – Only 2 Pills Per Day
---
Compared to other supplements, ArthoZyme is pretty easy to take:
only 2 capsules per day

from what I read, they are pretty easy to swallow

there's a small risk to forget about one dose

you can also take both pills together
So even though its ingredients could be better – there's nothing to complain about the pills. 
Now – I tried to find some pictures of the real pills, but it seems like the official website doesn't offer any.
In this case, I have to trust the reviews I read – which mentioned the pills aren't very large or hard to swallow.
So there's nothing I could criticize about ArthroZyme's capsules.
PRO #2 – Lots Of Reviews
---
That's another essential thing for me:
there are many authentic reviews of ArthroZyme

you can find some on Amazon, Ebay or special review websites

this means the product isn't a scam
Now – I couldn't find any reviews on the official website, but they simply don't have any review page. So that's probably the reason. 
However, ArthroZyme is also sold on Amazon – so there are plenty of authentic reviews. 
Now, to be honest – many of the reviews I found were negative.
But most people complained about the product not working amazingly – so it's surely not a scam (as I read on certain websites). 


CON #1 – Quite Pricey
---
In my opinion – ArthroZyme could be a few dollars cheaper, considering what it contains.
Here's what I mean exactly:
most supplements for inflammation cost under $25

they also have higher doses 

ArthroZyme doesn't contain such special ingredients, but it's still $32
So that's not very fair, if you ask me. For $32, you can almost buy 2 bottles for another supplement with better ingredients. 
Now – there are lots of products that cost well over $32. So ArthroZyme isn't the most expensive one ever.
But if you decide to buy it – there's one thing you should keep in mind.
CON #2 – More Expensive On Its Website
---
Here's the thing:
you can buy ArtroZyme both from Amazon and from their official website

the price on Amazon is $31.95 (without the Prime option or any discounts)

they also offer free shipping

on the official website, it's sold for $39.95 + $6.95 shipping


To be honest, it's pretty weird.
Most companies sell their products for more money on Amazon – so that people would buy from their official website.
But when it comes to Arthrozyme – it's exactly the opposite. So here's what I think:
The price from Amazon is the normal one

They sell it more expensive on the official website simply for money issues

So if you really want this supplement, buy it directly from Amazon

You're going to save $15 overall
CON #3 – Ingredients Could Be Better
---
I already mentioned the ingredients, so I won't insist too much on this topic.
But the thing is:
no strong ingredient – like glucosamine, turmeric or collagen

their overall value is under $32
So if they really wanted to charge this price for ArthroZyme – I think they could have added some extra substances (like the ones I mentioned).
Obviously, this mix is going to be enough for some. But if your joint pain isn't something temporary – you will probably need something stronger than Boswellia and Bromelain.
At least that's my opinion.

My Verdict – Is ArthroZyme Plus Worth Buying?
---
Short answer: I'm not sure. I would recommend it for minor joint swelling or bone health – but I think you can find some cheaper stuff.
Now – in these cases, it should really help. 
But if your pain is caused by arthritis or chronic pain – I'm not so sure:
the ingredients aren't very strong

no turmeric – only Boswellia

the reviews I read weren't all positive
As I said – I didn't try this supplement myself, so I can't speak from experience.
But judging after how it looks and the reviews I read – I wouldn't really recommend it. At least not as a #1 choice. 
You can get something much better for less than $32 – so that's what I would choose for arthritis or chronic joint pain.